English infomation

1.Welcome to Azur Maiko
Azur Maiko is a 800 meter long man-made oasis where a beach with white sand meets grassy gardens and small pine grove. This beautiful beach spreads out from East to West along the Japanese Inland Sea and overlooks Awaji Island and its famous connecting Akashi Kaikyo Bridge.

'Azur Maiko' was a name chosen by the public. 'Azur' is the French word for 'Blue' and 'Maiko' is the area's name. It was named with the hope that Azur Maiko beach will be as beautiful as Cote d'Azur in the south of France. This park would be the site for relaxation, quiet social gathering and a nice dip in the sea on a hot summer's day.

We are very proud that Department of Environment continually conducts water quality surveys and has awarded the water quality as best or second best every year. As such, you will often see fish swim around you when you are in the water.

Azur Maiko is a park with the feel of a seaside resort. It is a place for walking along the beach, having a picnic, fishing, exercising, free yoga, barbeques(date apply) and many more activities. As one of the most beautiful sunset viewing spots, it attracts many photographers, couples and holiday goers, even in the winter.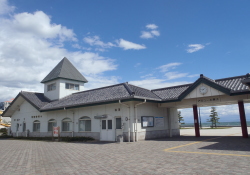 Azur Maiko Park Management Office
Tel: +81-78-706-2011  
contact mailform
11 Kaigandori, Tarumi, Kobe 655-0036, Japan
2.To all park users
●Please take your rubbish with you.

●Fire and the use of fireworks are prohibited in the park.

●Please do not swim except BeachSeazon.

●Please do not swim after drinking alcohol and out of swimming time.

●Water bikes, surfing, spearfishing in a swimming area are prohibited.

●The use of stereo equipment and speakers(includes karaoke) are prohibited.

●If you do not use smoking section please dispose the cigarette end on your own.

●Barbeque area is closed from 1st July to 31st August. And also barbeques are allowed in the desined area only, but only after making a reservation.

●Taking pets onto the beach is prohibited, Pets are allowed on a leash in other areas of the park.

●Team sports using rigid balls are prohibited.

●Motorbikes and other vehicles are prohibited.
3.FACILITIES DURING BEACH SEASON
●Coin-operated lockers(charged)
Small size 200yen, Medium size 300yen, Large size 400yen, for valuables 100yen

●Hot water shower 100yen, Cold water shower FREE

●Changing room FREE

●Shop / Fast food, Rentals, Beach stuffs
4.BARBEQUE AREA
Available for free, but by Appointment only
First come first served basis.
Accept your reservation on the phone.
Can not accept on the day.

Method for reception – Call 078-706-2011 or drop in at the office.
Reception opens from 9am to 5pm.
Barbeque available year round except July, August and 29th December to 3rd January.

Sections you use on that day cannot be specified in advance. Maximum numbers you can reserve is 2. When you let us know numbers of people that will come, we will judge numbers of sections required.

Reservation is requested by at least the previous day(by phone is accepted)

Please confirm your reservation on the day at the office before you start barbeque. We will let you know which section you may use and rent you a bucket and fire tongs. You have to return these to the office and put out a fire by 4pm. When you finish please make sure to clean up the sections you used. DO NOT leave any rubbish behind and DO NOT wash barbecue stove or dishes in the park as dirty water flow out to the sea.

Our barbecue area is not for any commercial purpose.

No fireworks or fire crackers in the park. Barbeque area is no exception.

Barbeque stoves have to be with stand.

Make sure bring all the tools you will need as no rental services at all.

THERE ARE NO RUBBISH BINS AT AZUR MAIKO PARK. SO ALL RUBBISH MUST BE TAKEN AWAY WITH YOU AND DISPOSED OF AT YOUR OWN HOME.
5.GROUND GOLF
Ground golf is one of the most popular sports especially among the senior age. This sports was devised in Japan. Because of its simple rules and you do not need high skills, very popular a wide age group of children and adults and old people.

Tools to play are very similar to golf, but specially made for the ground golf. Free to rent all tools at the office. Also free to play between 9am to 5pm, but need to check in at the office. Possible to check in between 9am to 3pm.

●Please do not leave your own tools in the storage.
●Take your rubbish with you.
●Pets are not allowed in a ground golf area.
●Please do not play any other area in the park.
●Sorry, you can not make booking in advance.
6.AZUR MAIKO WALKING CLUB
To enjoy your walking even more!
You can get a free stamp card to enjoy walking at Azur Maiko. Anybody can get a stamp card at the office. This card has names of post station towns on the Tokaido trail. tokaido is an old road which connects between Edo and Kyoto. Tokaido has 53 post stations called 'Tokaido Gojyusan-tsugi'.

A stamp card consists of two cards. Easy registration at the office. you can get new card whenever you complete your card.